Welcome to the world of Dainichido Bugaku
with a tradition of 1,300 years
Welcome to the world of Dainichido Bugaku
with a tradition of 1,300 years
Welcome to the world of Dainichido Bugaku
with a tradition of 1,300 years
ABOUT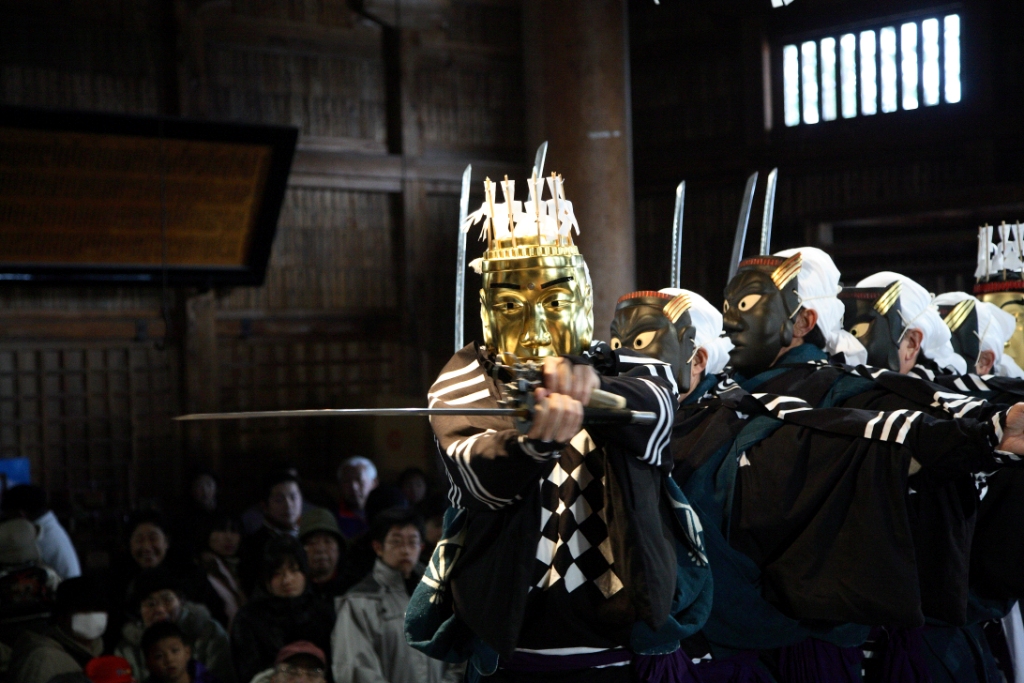 Dainichido Bugaku is a traditional dance performed every year on the second day of the New Year at Ohirumemuchi Shrine (commonly known as Dainichido) in the Hachimantai Azukizawa district of Kazuno City, Akita Prefecture.
From the four districts of Osato, Azukizawa, Nagamine, and Taninai, Noshu (dancers) gather and dedicate dances in front, and in the hall of the shrine.
In the second year of Yoro (718 AD), by imperial decree of Emperor Gensho, a famous monk was sent from the capital, and it is said that the origin of Dainichido Bugaku was the dance at the ceremony when the Dainichido shrine was rebuilt.
For the next 1,300 years, it has been handed down by the locals.
In Showa 51 (1976 AD), it was designated as a nationally designated important intangible cultural property, and in Heisei 21 (2009 AD), it was registered as a UNESCO Intangible Cultural Heritage.
SHRINE
A shrine that has been there in Hachimantai, Kazuno City, Akita Prefecture for a long time
It is said that it was originally built by imperial petition in the seventeenth year of Emperor Keitai (523 AD).
200 years later, a monk named Gyoki descended by order of Emperor Gensho in the second year of Yoro (718 AD), to renew the shrine, and it has been sitting in the land of Kazuno ever since. It is commonly known as Dainichido and is worshipped by local people.
Dainichido Bugaku Introduction Video (English Version)
ACCESS
Address
16 Dounoue, Hachimantai, Kazuno City, Akita Prefecture
Dance dedication day
Dedication performance: January 2, 8:00am - 11:30am
TEL: 0186-32-2706 / FAX: 0186-32-2742
Click here for the time schedule
Getting here by train
It is a 1-minute walk from Hachimantai Station on the JR Hanawa Line.
Getting here by car
It is about 5 minutes by car from Kazuno Hachimantai IC, Tohoku expressway.
※The parking lot is available in front of Hachimantai Station (1 minute walk), but please note that it will be very crowded on the day.